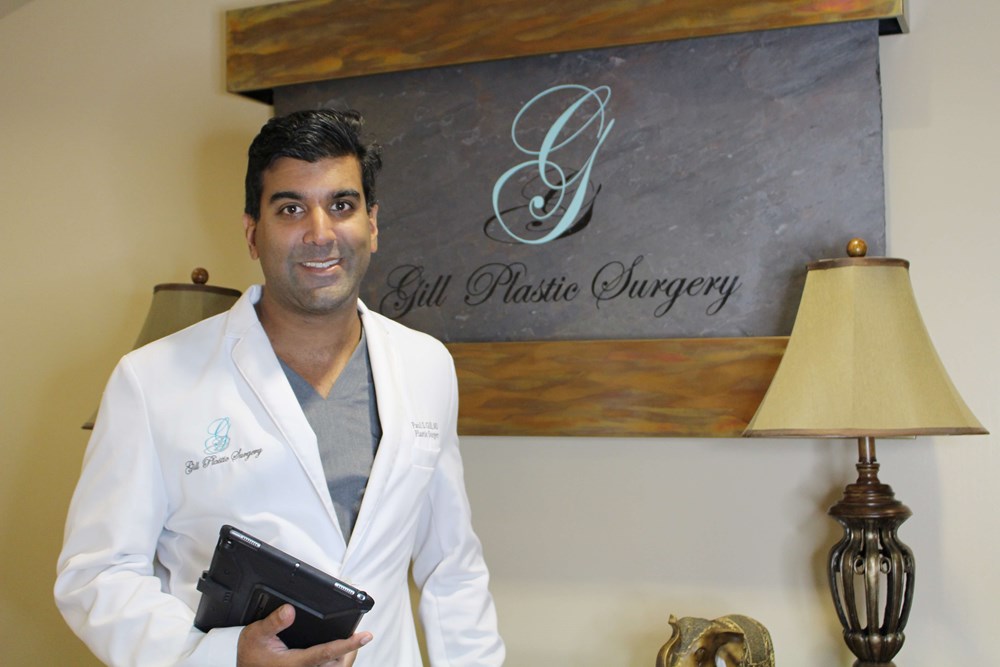 Houston and The Woodlands, TX board-certified plastic surgeon Dr. Paul S. Gill completed his extensive plastic surgery training at the prestigious Texas Medical Center at The University of Texas. Dr. Gill also completed a surgery residency at LSU Health Sciences Center Charity Hospital in New Orleans, one of the busiest trauma hospitals in the country. He was nominated as the best resident in his class four years in a row, demonstrating his respect among his peers. He was also selected as the Administrative Chief Resident of Surgery for his final year, the year of Hurricane Katrina.
Dr. Gill proved his work ethic, leadership, and determination while helping to rebuild his general surgery residency. For his contributions, Dr. Gill was given the prestigious Professor's Award for his significant contributions at the conclusion of his residency.
During his training, Dr. Gill completed a research fellowship with Dr. Robert Allen, the founder of the DIEP (Deep Inferior Epigastric Perforator) flap for breast reconstruction. During this fellowship, Drs. Gill and Allen published many landmark research publications in the field of breast reconstruction. One of their papers was selected by the American Association of Plastic Surgeons for the James Barrett Brown Award. This award is given to the author of the single best plastic surgery publication in the country for that year. Through this enormous honor, Dr. Gill was able to present his work on the DIEP flap to many world leaders in the field of plastic surgery at only 28 years of age. Dr. Gill is extremely grateful to Dr. Robert Allen for his mentorship and fostering of interest in the field of breast reconstruction.
Dr. Gill completed a fully accredited plastic surgery residency at The University of Texas, training at Texas Medical Center, the largest medical center in the world. Dr. Gill fostered a substantial interest in the field of aesthetic surgery during his plastic surgery residency. He spent time training at St. Joseph's Hospital, one of the busiest cosmetic surgery teaching programs in the country. Here, Dr. Gill studied extensively the latest techniques in facial and breast aesthetic surgery. He also developed an interest in body contouring surgery after seeing many post-bariatric patients in his training. During Dr. Gill's training, he developed a substantial interest in the facelift and aesthetic breast surgery. As a result, he dedicated much time in his residency training to study under many regional and national leaders in these areas.
Dr. Gill continued to develop a profound interest in the DIEP flap with additional training at the MD Anderson Cancer Center and Memorial Hermann Hospital. Dr. Gill has performed more than 100 vascular breast and trauma reconstructions during this training period. Combined with his fellowship training under Dr. Allen, Dr. Gill has brought his experience closer to home, treating breast cancer patients in Houston, The Woodlands, and Lake Conroe, TX.

Today, Dr. Gill provides a variety of plastic surgeries and treatments of the face, breast, body, and skin to men and women in the North Houston and The Woodlands, TX area. Providing his patients with natural-looking results, Dr. Gill focuses his side of the practice on aesthetic surgeries, such as body contouring after massive weight loss, the mommy makeover, tummy tuck, facelifts, and more. He also is highly trained to perform laser treatments, cosmetic injectables, CoolSculpting, and many other nonsurgical procedures at his practice. As a doctor with an eye for aesthetics, he believes in a patient-centered approach with safety and a natural look are his utmost concerns.
Dr. Gill has medical privileges at the following local hospitals and surgery centers:
Memorial Hermann The Woodlands Hospital
Memorial Hermann The Woodlands Surgery Center
St. Luke's The Woodlands Hospital
Houston Northwest Medical Center
TOPS Surgery Center
Research And Presentations
Dr. Gill has traveled throughout the country to present research on facelift procedures in Washington D.C. and New York City. He has also attended numerous cosmetic meetings and taken courses in the latest techniques focusing on how to minimize patient morbidity and speed up recovery. He has also traveled internationally to provide reconstructive surgery to children born with congenital defects. Dr. Gill finds these trips to be the most gratifying and humbling experience as a physician. He plans to continue these ventures in the future to provide appropriate medical care to those in need. Based on his extensive amount of experience from many of the preeminent authorities in aesthetic and reconstructive surgery, Dr. Gill takes great pleasure in providing world-class care and a kind bedside manner to his plastic surgery patients.
Related Posts